COFE App helps cafés grow their business with easy mobile ordering and one-stop-shop supply deliveries. Happier customers and lower costs await you.
Interested in becoming a partner?
Fill out this form below and a COFE representive will contact you within 48 hours (excluding weekends).
Why partner with COFE App?
Get on board and be a part of a caffeinated digital ecosystem.
Expand customer reach
Increase your loyal customers and fuel up your sales like never before.
Increase Brand Exposure
Gain higher exposure and boost your brand to its fullest potential.
Analytics & Dashboard Access
Increase visibility and business efficiency at all times.
Fill out the details in the simple form to register your interest to be a partner with COFE App and a member of our team will get in touch!
Onboarding on the COFE App
Our sales team will brief you on the COFE App value proposition and assist you in your onboarding of platform.
Dedicated Account Management
We will assign an account manager to assist with your day-to-day operations. Our account manager will train your baristas on the COFE App and Merchant portal and share detailed insights on customers who transacts with you on the COFE platform.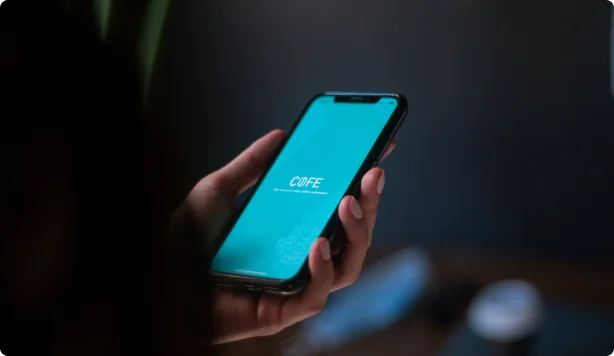 We strive to conquer the coffee industry country by country and bean by bean.
"Caribou has been on the road with COFE from its inception helping each other in growth. Cofe has a unique loyalty program that has been excellent for our customers both new and existing. Introducing the pick up / deliver to car was an advantage; from my point of view the walking delivery is amazing & easy for my meetings. It has been a good experience and a great partnership."

Mohamed Al Mohamed, IT & Finance Director, Al Sayer Holding (Caribou)

"Thanks COFE app for being the best supportive partner for the duration of our partnership. Our rewards program on the app is loved by our loyal customers. COFE services (pick up/ car service/ delivery) were the best additions for R Cafe during the recent difficult times. Thanks COFE team."

Nasser Makki, Owner of R Cafe

"Thank you COFE team - last few months COFE has truly added significant value to our business. Our coffee customers love the application experience and Baristas also find the portals simple to use. We hope to work with COFE for the long term and build on the partnership with a strong base of customers."

Rashed Al Duraiee, Owner of Syra Coffee

"COFE has been a true partner of Kamikaze Cafe from the beginning and the relationship went stronger each day. COFE's unique loyalty program is loved by our customers along with the car service which has added a lot of value to our business."

Bader Jasem Al mater, Owner of Kamikaze Cafe
Some of the COFE Partners
Frequently Asked Questions
What is the onboarding process with COFE App?
Onboarding with COFE App is really simple, we only require your scanned menu, item images and logo along with your branch details. Once we have received all the information our content team will be in touch and update you as soon as your store is live on our app. Generally, it takes around 5 business days form receiving all the details, to creation of your store live on the app.
Will the customer details be shared with us?
We at COFE App are very transparent with all our partners, regarding the customer details. You will receive individual transaction details of each and every unique customer as part of our month -end reporting. However, we are governed by GDPR regulations hence will do not prefer to share Customer contact details who has registered with us on the COFE App.
How can we do promotions with COFE App?
COFE App supports all its partners to run promotions on the app. Partners can run joint promotions with us – with multiple options (price slash on items, buy-one -get -one offers, combo items discounts etc.). We promote our partner promotions, in our social channels- free of cost (of course).
What is the customer support process for COFE App?
At COFE App, we take our customer satisfaction very seriously, hence we have a dedicated team of customer service agents taking care of all the customer needs. Our customer service agents proactively monitor each and every order and would be in touch in case of any issues. For Vendor partners we have dedicated account mangers as well, who is always just a phone call away.