September 7, 2023
Press Release
COFE Takes Center Stage at Seamless, KSA's Leading Technology Innovation Event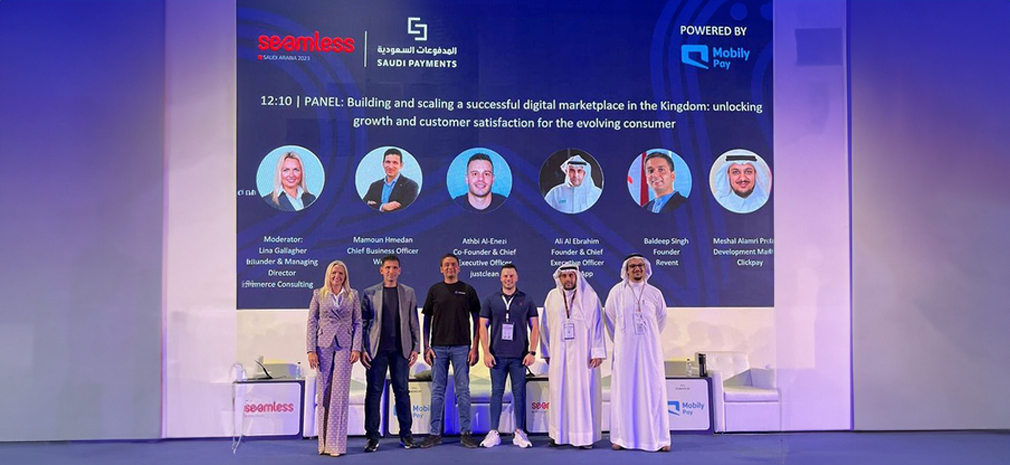 COFE App, the region's premier online coffee marketplace, recently demonstrated their platform's 360-tech approach and business solutions for the tech and coffee industry at Seamless KSA 2023. During the event, key spokespeople from COFE joined panel discussions that addressed the current trends in the startup sector, blockchain solutions for the industry, and assessing the importance of innovation in e-commerce. 
The second Seamless event, held on September 4th and 5th, aimed to redefine the role of e-commerce, payments, and fintech in a tech-driven future. It was established as an arena for essential discussions regarding the influence of innovation and technology on prospering in the digital age. Participating in the event were Ali Al Ebrahim, Founder & CEO, Turki Alghamdi, KSA Country Manager, and Mohammed Ahmad, Head of Supply Chain at COFE App. 
It was clear during the discussions that COFE is committed to create a complete coffee solution that empowers coffee and related service providers at every stage of the process to bringing the best coffee experience to the audience. 
Ali Al Ebrahim, along with Mamoun Hmedan, CCO & Managing Director of MENA and India Wego; Athbi Al-Enezi, Co-Founder & CEO of justclean; Erika Doyle, Founder & Managing Director of Drink Dry; Hazem Hosny, CEO of Raneen; and  Khalid Aladhadh, Group CEO of Ollkom, took stage to discuss the art of building and developing a thriving digital marketplace in Saudi Arabia. The panel has  delved into methods geared not just at generating growth but also at improving customer satisfaction.
Commenting on the panel, Ali Al Ebrahim, COFE's Founder & CEO said, "The Kingdom's rising digital ecosystem is ripe for innovation, providing an environment for businesses to develop a strong presence, respond to changing consumer preferences, and grow long-term relationships with both their partners and users; altering the region's retail and commerce landscape." During the discussion he shed light on the critical role that technology will play in creating the future of commerce in the Kingdom, the discussion has provided vital insights for firms looking to prosper in this fast-paced market.
COFE's relevance was emphasized further by another critical panel discussion titled "From supply to delivery: embracing technology and sustainability to drive growth in a new era of supply chain modernization." Experts discussed how technology and sustainability are transforming supply chains, driving growth, and encouraging ethical behavior in the dynamic landscape of modernization. "Understanding the development of supply chain in the modern era involves an equal attention to technology and sustainability. The sector has undoubtedly embraced new technological solutions that help businesses to optimize their supply chain processes, improve productivity, and respond quickly to market needs," Turki Alghamdi said on the panel discussion.
COFE's participation in the another discussion focused on the critical topic of customer-centric delivery within Saudi Arabia's retail terrain, delving into approaches focused on boosting the last-mile experience, highlighting the company's commitment to providing convenient, personalized, and efficient delivery services. Mohammed Ahmad who participated in the said discussion said, "Prioritizing the last-mile delivery experience has become critical in Saudi Arabia's retail sector. Customer-centric tactics are vital in creating an efficient delivery process.. Retailers are increasingly focused on new techniques, digital integration, and reliable logistics to improve the last-mile experience, eventually improving customer happiness and loyalty."
With over 500 worldwide exhibitors, 300 of the Kingdom's most creative startups, and 450+ competent speakers, Seamless gathered over 30,000 registered visitors, making it the largest Seamless event on record. The event also celebrates the Kingdom's innovative development towards its Vision 2030, a strategy launched in 2016 for economic diversification, social liberalization, and the growth of tourism and hospitality. 
Coffee is now serving an important part in the Kingdom's economic revival. World Coffee Portal data reveal that the Saudi Arabian branded coffee shop market gained 18.5% over the previous year to surpass 3,550 outlets, making it by far the largest in the Middle East. KSA's desire to offer unique and distinctive experiences is a driving key across all its industries, including the coffee sector. Sophisticated business owners in KSA want to provide guests with a seamless experience, with new technology and creative F&B ideas both supporting this journey.
COFE Market, the platform's e-commerce segment, launched in late 2022, allows users to purchase coffee beans, equipment, and other home brewing supplies, leaving a lasting impression on the whole coffee sector B2B supply chain ecosystem. COFE Cloud, a SaaS solution is the company's newest segment, launched in the test environment early second half of 2023, it has already gained popularity across the Company's operating markets. The platform's cloud services are expected to revolutionize café management by including a wide variety of features such as targeted loyalty programs, efficient gift card management, subscription orchestration, and seamless interaction with strong marketing tools. 
At COFE's core, COFE Market & Cloud represent an unwavering commitment to providing customized digital solutions to coffee industry worldwide, unlocking development opportunities, amplifying interaction, launching revenue trajectories, and constructing an ecosystem of operational refinement that resonates with perfection.