September 12, 2022
Press Release
COFE App & Tasleeh Announce B2B Partnership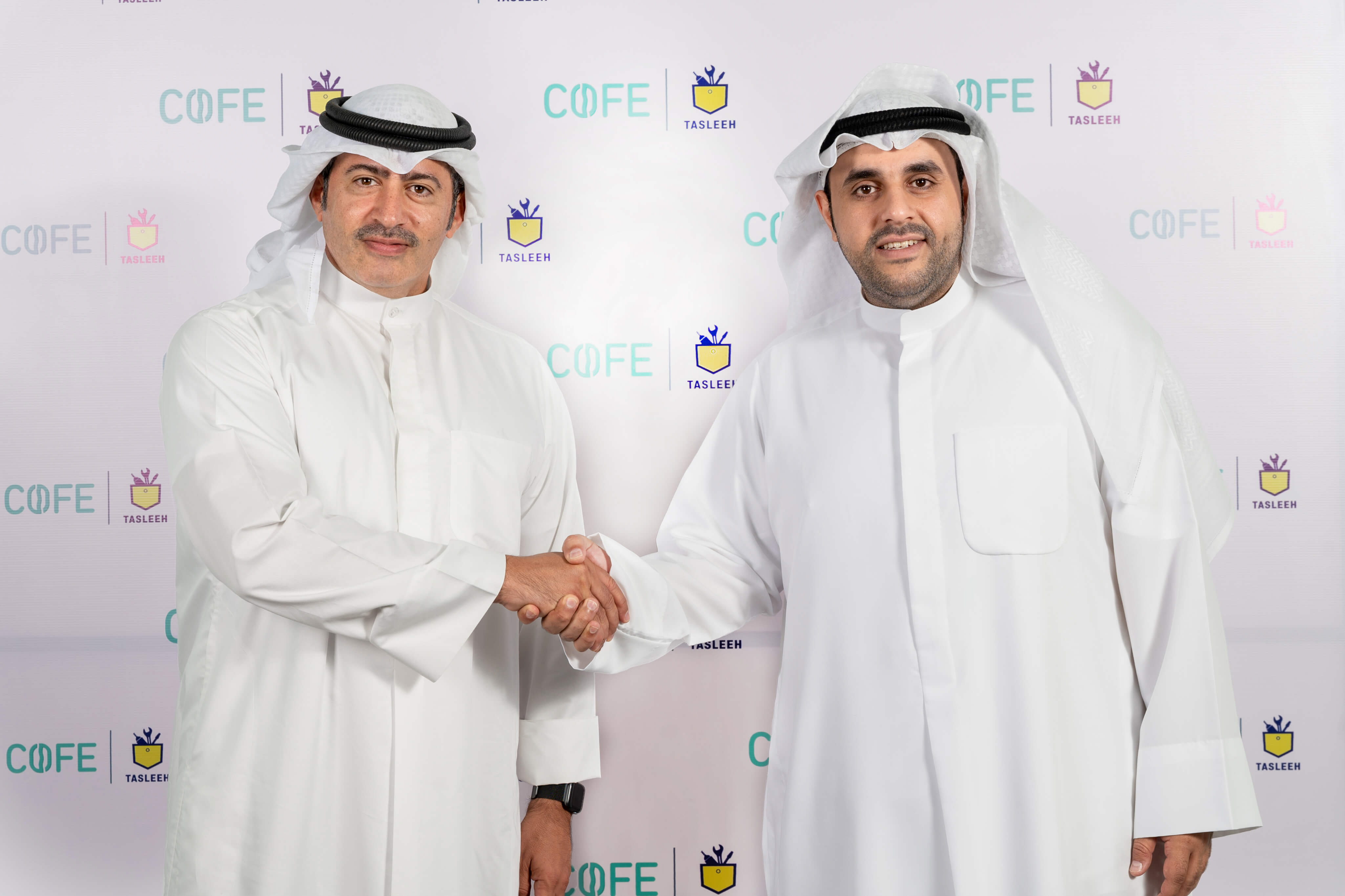 COFE, the region's premier coffee marketplace app recently announced their partnership with Tasleeh, Kuwait's unique commercial property maintenance platform. With Tasleeh, COFE will now offer a full range of maintenance services to COFE Shops on its platform through their brand new COFE Maintenance feature.
The launch of this service is part of COFE's effort to become a 360 services provider, making their vendors lives easy, so that they can focus on doing what they do best – coffee! COFE Shops can register their maintenance requests through COFE's Supply Chain portal, which will then be fulfilled by Tasleeh through platform integration.
Commenting on the partnership, Bashayer Al Zayed, Head of Strategy at COFE said, "At COFE we have always focused on being a 360-degree solution provider for our vendors. We are very excited to welcome Tasleeh to the COFE Family, and are sure that they will be able to provide our vendors with the best-in-class services. This partnership marks a new journey for us as we begin to expand on our B2B offerings to support COFE Shops in new and innovative ways."
Tasleeh has been a service provider of choice for home and commercial maintenance service partners in Kuwait. With a proven track record and dedication to high quality and consistent work standards, they are able to offer efficient and timely service in the fastest time.
Abdul Wahab A Mutawa, CEO of Tasleeh added "that business today cannot be run without innovation, smart operations, investing in digital leadership and building healthy relationships with forward minded clientele. This is why we are very honored to be working with COFE as part of our growing portfolio".
In the past few months, COFE App has launched a number of new features both for their users as well as vendors, with a focus on convenience, functionality and speed. Some of the features include COFElytics – an in-platform analytics and promotion tool for vendors (B2B). Within the B2C segment they have also launched voice command ordering (Siri & Amazon Alexa), and the "I am here" button that allows users to alert the barista when they arrive at the store.
With a brand new COFE Store (ecommerce) offering set for launch in the coming months, COFE is on its way to leading the digital revolution for the coffee industry both within the region and internationally.
About COFE
COFE App is an online coffee-centric marketplace conceptualised for coffee communities across the world. A state-of-the-art application that provides quick access to a wide range of international coffee franchises and artisanal coffee brands through multiple premium services and features on one platform.
Founded by Ali Al-Ebrahim in November 2018, COFE App currently operates in Kuwait, KSA, UAE, and Egypt, with international expansion in the pipeline. The platform, which placed among the top five start-ups in the tech innovation category at the London Coffee Shop Innovation Expo, has grown from strength to strength since its official launch in November 2018, and completed a Series-B funding round in April 2021, raising $10 million.
COFE App is available on App Store and Google Play store.
Website: https://www.cofeapp.com
About Tasleeh
Tasleeh is an all-in-one digital solution to deliver 24/7 assistance to property owners and tenants in an efficient, timely and professional manner. The user-friendly application covers all property requirements and services such as HVAC, electrical, plumbing with real time tracking and progress reports in a transparent manner.
Founded by Abdul Wahab Al Mutawa in 2018, this leading digital solution for property maintenance services has grown exponentially over the last 4 years, doubling its business and consumer clientele portfolio year on year. With a dedicated and professionally trained in-house team backed by a sophisticated and proprietary operating system, the business has currently serviced over 25,000 requests and signed over 450 yearly maintenance contracts in Kuwait.
Tasleeh App is available on the App Store and Google Play store.
Website: https://tasleeh.com
For any media enquiries, please contact
Zahra Husain, Sr. P.R & Comms Manager
Email: zahra@cofeapp.com